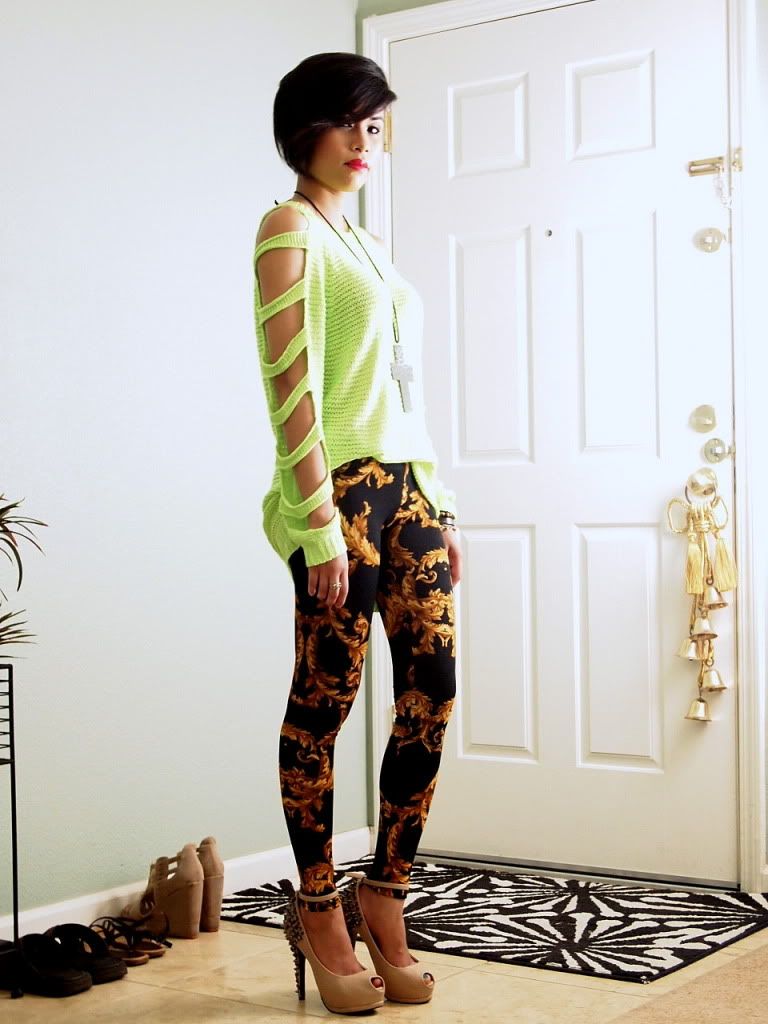 Ne-On Top Of It Neon Green Sweater

,

Going For Baroque Black Print Leggings

,

Arrow Tan Spiked & Stone Platforms

c/o LULUS.com I
Huge cross necklace -Amiclubwear I Antoinette Lee Design Morse Code Bracelet I Juicy Couture Friendship Bracelet I
Veeve Bracelet I Belt buckle ring- Ebay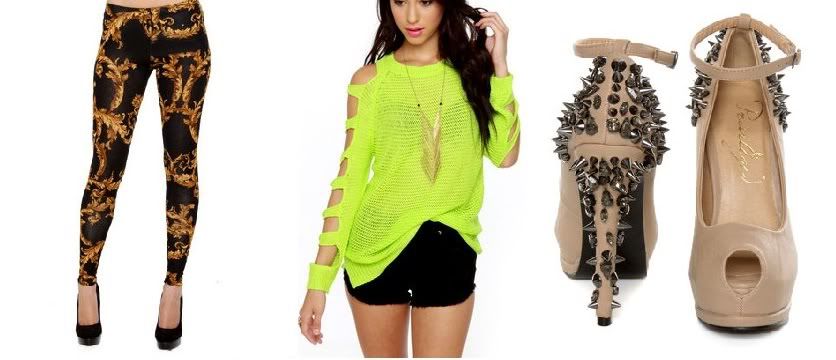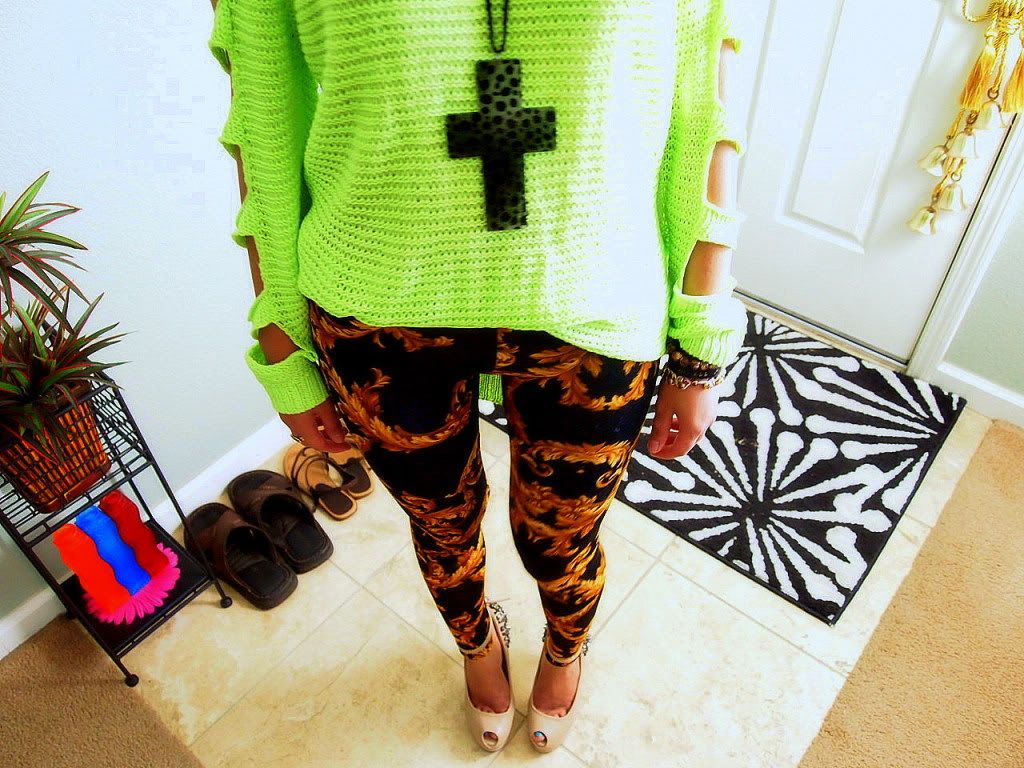 FASHION FOCUS: BAROQUE PRINT
Baroque was a period of artistic style that used
exaggeration in lighting, and intense emotion. This style started in the early 1600's in Rome, Italy and now, the same style in art and architecture has become a huge trend in fashion.
We see these types of print everywhere from Versace to Emilio Pucci's collections.
The baroque print is undoubtedly an up and coming contender for the wild & floral print this season, giving those two a run for its money.
Anyway, what I love about this particular "trend" is that, it combines the best of both worlds for me. ART & FASHION~ which we all know goes hand in hand. I also love the intricate details of this certain style which gives off a very sophisticated and luxurious feel to the look. And in a way, this style somewhat reminiscent to the simplicity and subtlety of the Grecian period, for which I also appreciate and love.
As for today's look, I decided to pair my
Going For Baroque Black Print Leggings
with this incredibly amazing
Neon Green Sweater
with cut out sleeves and a semi hi-lo ribbed hem. This look is totally loud and in your face like most of my previous outfits, but that's the main reason why I am so in love with today's look. I honestly enjoy combining these two current trends right now and though it may be a little over the top with all the neon and print, the look still gives off a very casual vibe in a less subtle way, as always.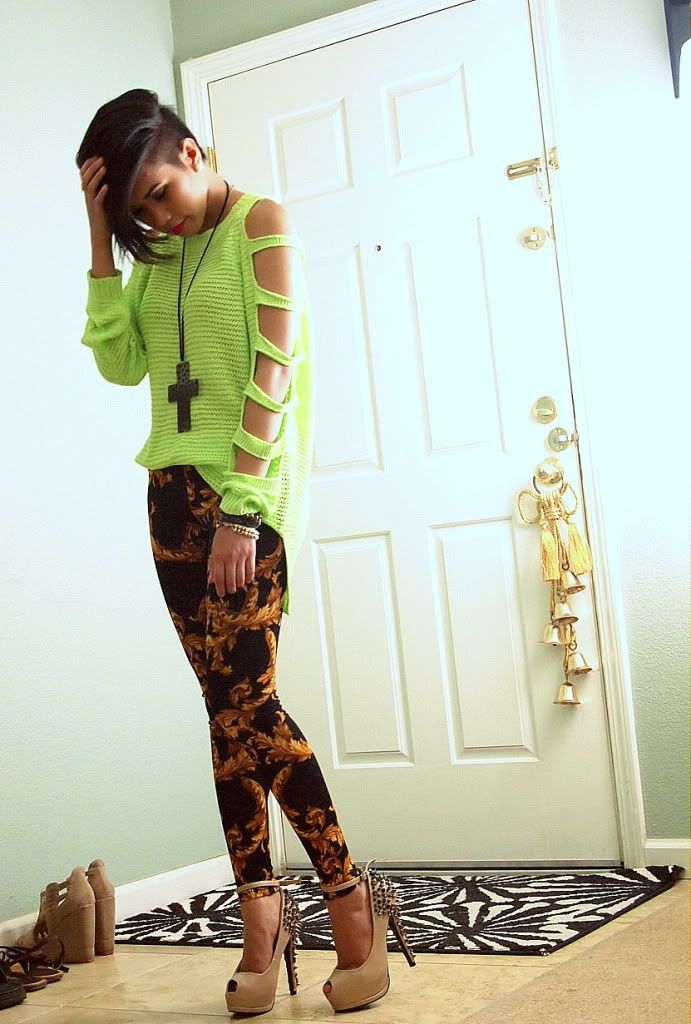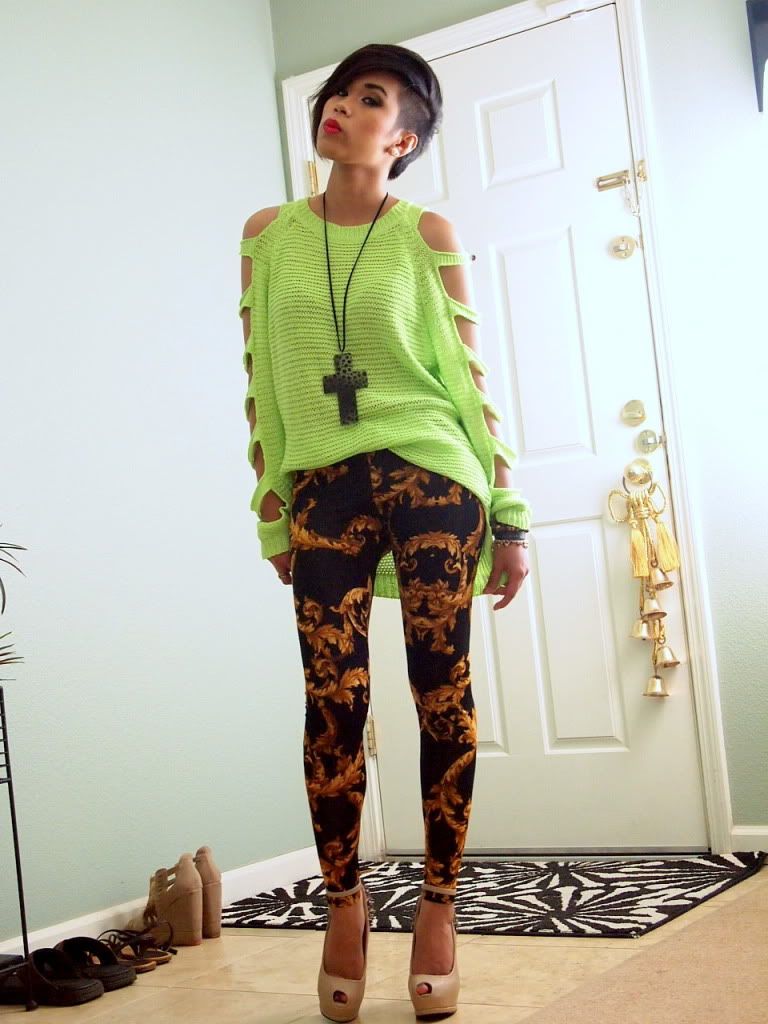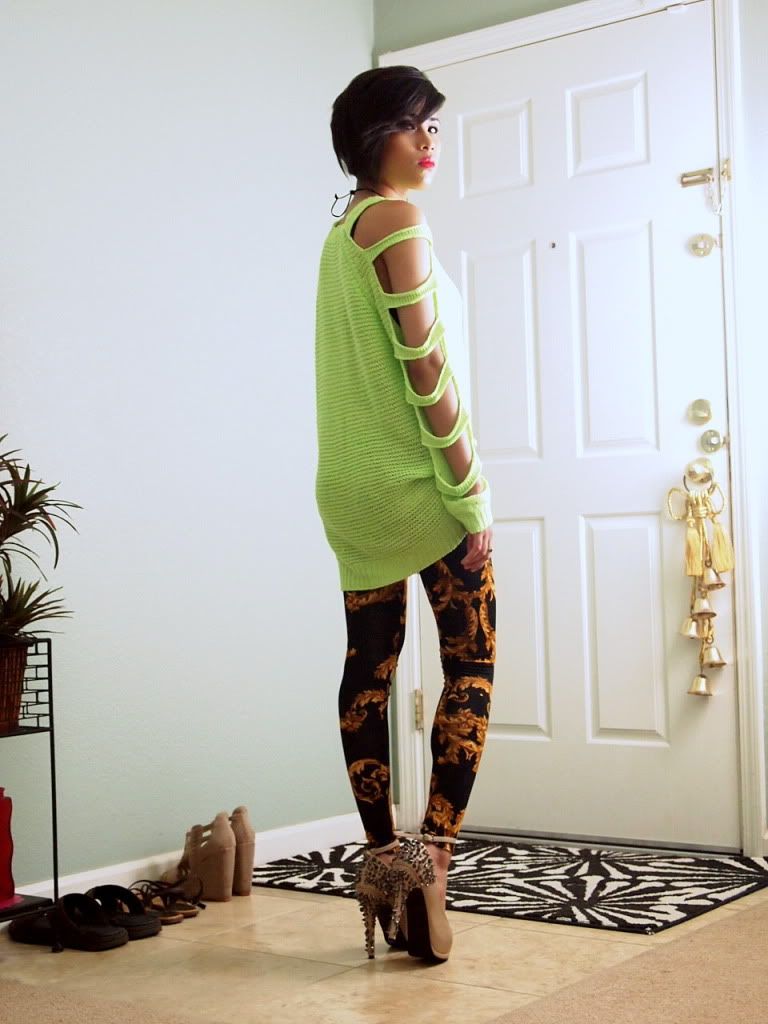 SPECIAL 15% OFF DISCOUNT CODE TO ALL US/CANADIAN READERS:
EWWITSNIKKI 
(This discount code is case sensitive so be sure to enter it in all CAPS)
This 15% off discount code is valid from July 24th and will expire on July 28th. 
It is available to all customers from the US &Canada. 
ONE DISCOUNT CODE PER CUSTOMER ONLY!
Enjoy & Happy shopping everyone!
FTC: Today's personal style post is sponsored by Lulus.com in collaboration with Ewwitsnikki. Though compensated in other ways, I am not getting paid to do this style feature/ post. All opinions are 100% my own. See Disclosure Policy for more information.
#TEENVOGUE