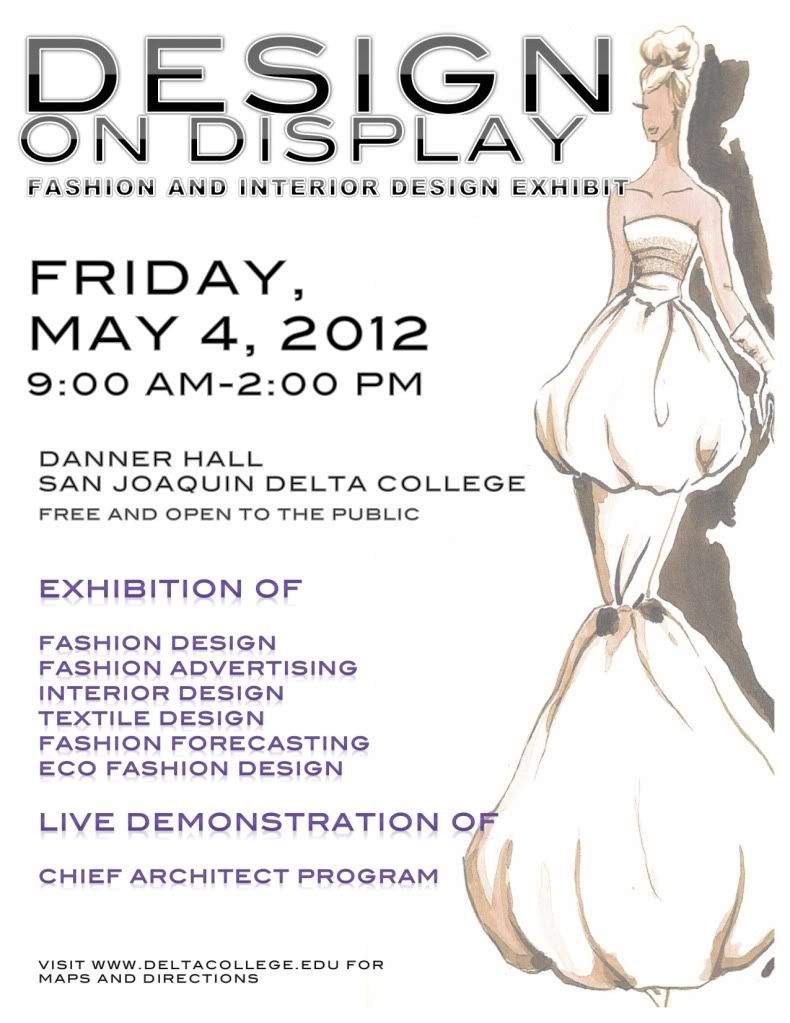 DESIGN ON DISPLAY is a one-day exhibition of FASHION AND INTERIORS design and merchandising - see some amazing design work produced by students of the Fashion and Interior Design Programs at San Joaquin Delta College. This annual exhibit presents an array of emerging and
budding designers in fashion and interior design...all from our local community!

On exhibit will be fashion designs created by student in the sewing and patternmaking classes; projects from Trend Forecasting, Fashion Retailing and Fashion Marketing; Fashion Illustration work and textile design projects, as well as projects from both the residential and commercial interior design classes.

Hands-on demonstrations will include weaving on hand looms and a demonstration of the Chief Architect computer program, which is used by students in the Interior Design Program and on many design shows like those on DIY and HGTV.

Garments from the Eco Challenge shown on Earth Day will also be on display. This was a competition where students designed and contructed garments using recycled materials only.

The exhibit is FREE to the public and will be open from 9:00am to 2:00pm on Friday, May 4th in Danner Hall on the Delta College campus.

For maps and directions, please visit: www.deltacollege.edu.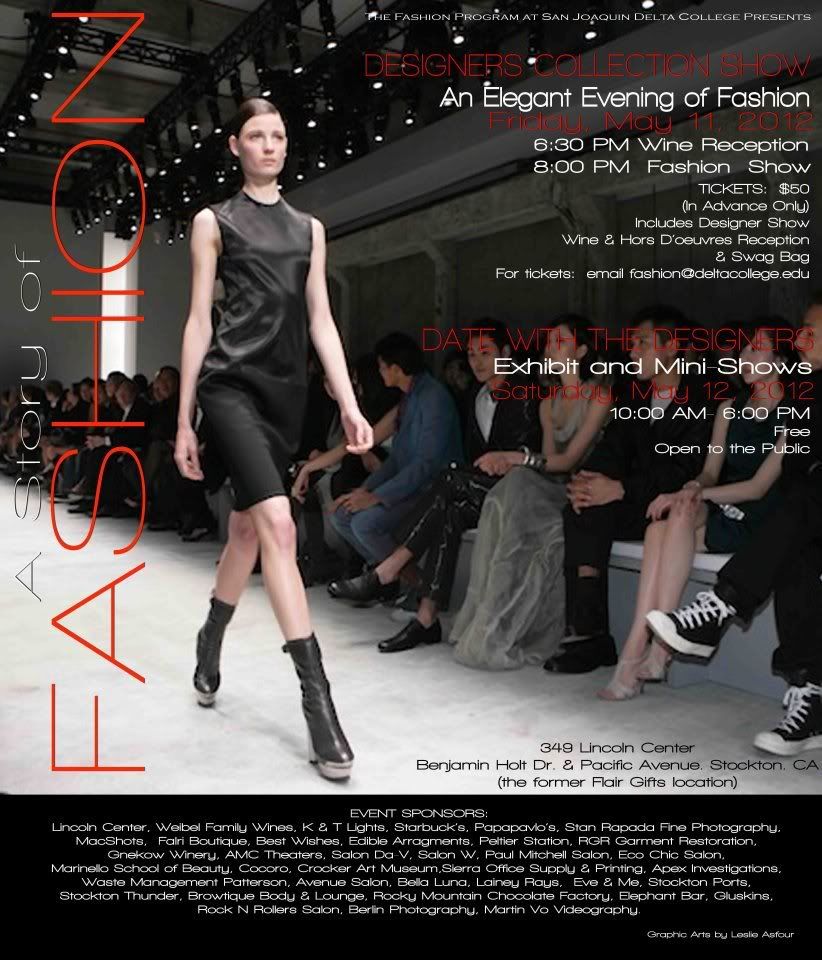 Join us for an elegant evening of fashion on Friday, May 11th from 6:30 pm - 9:00 pm.
A STORY OF FASHION is in its fifth year, showcasing ten talented emerging designers with full collections, featuring diverse range of styles, from elegant formalwear to futuristic desig
n. The collections will be modeled by seventy plus models who have been their muses. The elegance of Lincoln Center will be the backdrop.

DESIGNER COLLECTIONS SHOW:
Friday, May 11, 2012
6:30 pm - Wine and Hors D'oeuvres Reception
8:00 pm - Fashion Show

TICKETS: $50 each (IN ADVANCE ONLY and well worth the price).
Includes Designer Show,
Sparkling and still wines provided exclusively by Weibel Family Vineyards
Delicious and delectable hors d'oeuvres
Swag Bags with some amazing goodies (the best swag bags ever)
TREATED LIKE A VIP!

FOR TICKETS: email fashion@deltacollege.edu
Please note that your rsvp to the facebook event page does not guarantee a ticket. Seating is extremely limited, so please email for your ticket asap. Tickets will be sold on a first-come-first-serve basis.

All proceeds benefit the students in the fashion program. The show is produced by the Fashion Event Production Class at Delta College.
----------------------------------------


DATE WITH THE DESIGNERS
DESIGNER EXHIBIT AND MINI-SHOWS
FREE event on the following day- Saturday, May 12
Open-house exhibit and a series of individual mini shows
- opportunity to meet the designers
- see the garments up close
- find out information about the program
- see work from other students not in the show.
This is a FREE and open house open to anyone. Come by on Saturday, May 12, 2012 from 10:00 am to 6:00 pm.

A VERY SPECIAL THANK YOU TO LINCOLN CENTER FOR SPONSORING THIS EVENT.

Other sponsors and supporters include: Gary Long Jewelers, Papapavlos, Starbuck's, Cocoro, Crocker Art Museum, Gnekow Winery, Peltier Station, Edible Arrangements, AMC Theaters, Sierra Office Supply & Printing, Apex Investigations.

If you would like to support this event, please email lasfour@deltacollege.edu

THANK YOU TO OUR AMAZING SPONSORS:
Lincoln Center
Weibel Family Wines
Papapavlos
Theadora Boutique
Gary Long Jewelers
K & T Lights
Flair Boutique
Best Wishes
Stan Rapada Expert Photogrphy
Mike Chavez Jr. Photography
Berlin Photography
Upstart Photography
Steve Tsu
K & T Lights
Waste Management, Patterson
Starbuck's
Edible Arrangements
Rocky Mountain Chocolate Factory
Cocoro
Gnekow Family Winery
AMC Theaters
California Rock & Ready Mix
Stockton Ports Baseball
Steve Tsu, Northwest AV Services
New York Diamonds
Scentsy Candles
Browtique
Lainey Rays
Minnie & Myrna's Pomegranate Delight
Gluskins
Bella Luna
Stockton Thunder Hockey
Elephant Bar
In-Shape Health Clubs
Apex Investigations
Monster Energy
Lathrop Cleaners
LYLIF Clothing
Stylists from: Salon Da-V, Kyndra Wilson, Vintage Cuts, Avenue, Serena Da Sevenau, Salon W, Anna Campofiorito, Eco Chic Salon, Villa 2000, Paul Mitchell, Rock N Rollers