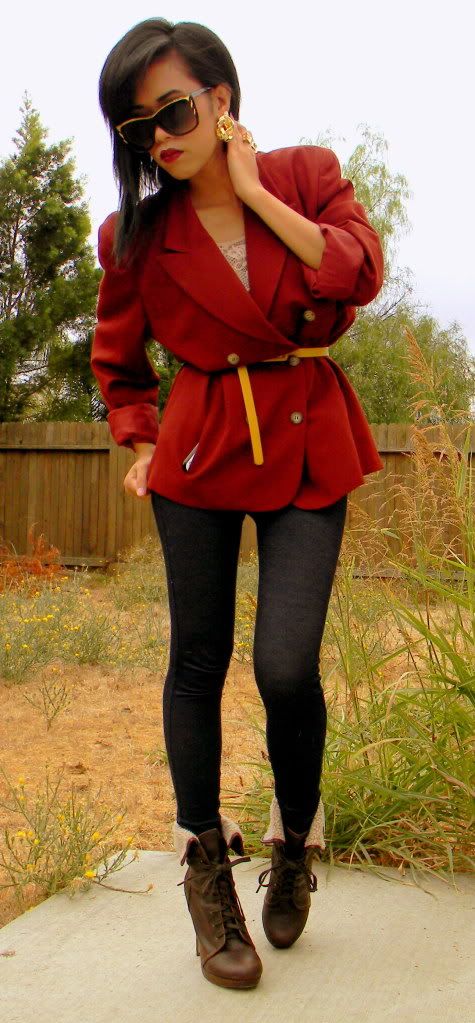 Vintage Burnt Sienna Liz Claiborne Blazer from Supeior Thrift
Cream Lace Boat Neck Top from Marshalls
Betsey Johnson Jeggings from Ross
Brown Heeled Combat Boots w/ Faux Wool Shearlings from Ross
Mustard Skinny Waist Belt from XXI
Gold Vintage Earrings from Superior Thrift
Gold "LOVE" Double Finger Ring from Claire's
Vintage Wayfarer with Gold Detailing
from
80's Purple
FASHION HIGHLIGHT: VINTAGE WAYFARER
When you think of vintage wayfarers, you automatically think of Raybans. I vividly remember my Dad rocking Rayban wayfarers and aviators back in the day. I used to think it was so old school, but look how it has made it's comeback with a less affordable price tag along with it. Well, worry no more, because you will see every size, shape and color on

80's purple's

site. They carry a wide range of sunglasses from vintage to futuristic, just like that & the best thing about it all, is the very affordable price. $10 for these '

vintage wayfarers with gold detailing

' --So, go out and make a statement without breaking your budget ;)
FASHION FOCUS:
BURNT SIENNA & MUSTARD COMBINATION
It's now October & you can definitely sense, smell & see that the season is changing. This Fall 2011, the colors burnt sienna & mustard are one of the few colors that screams FALL!
I got this Vintage Liz Claiborne blazer from a local thrift store for only $1.99 & I paired it with a cream/ nude lace top while singeing it with a skinny mustard waist belt to give the bulky blazer some shape to it, which then also helps accentuate my petite figure. Also, by singeing the waist with a skinny belt, it creates a peplum on the bottom half of the blazer. And, mind you, peplums from the 30's are making a strong come back this season.
So, what colors do you like to wear together this fall season?