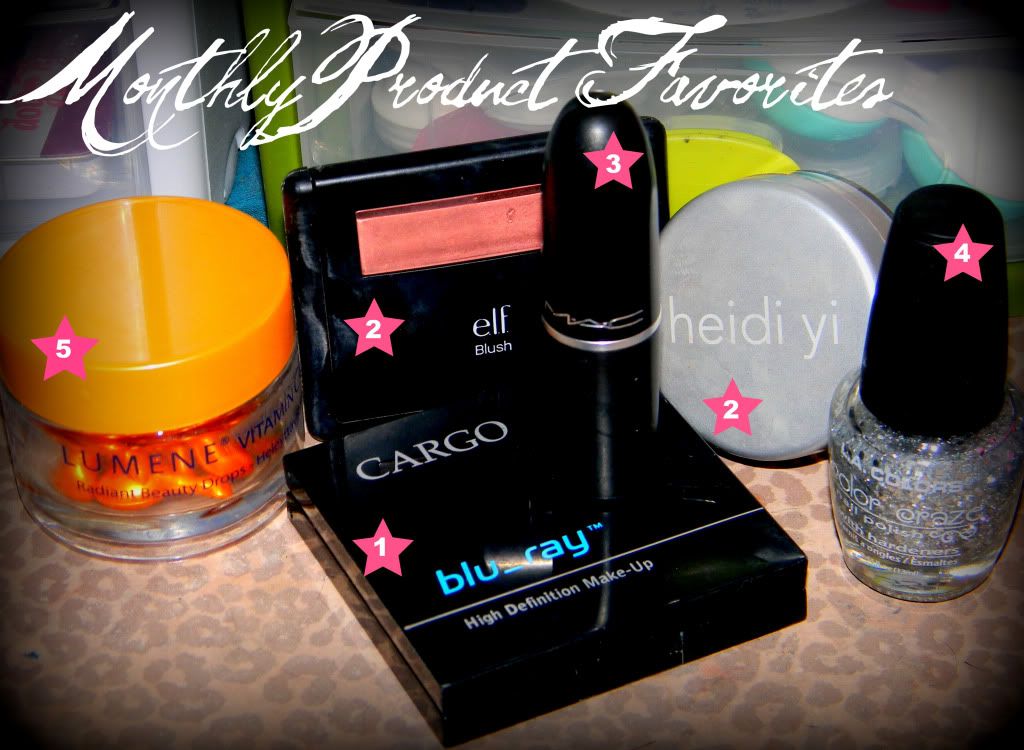 1.) CARGO Bluray HD Powder (Shade 20)
2.) ELF Studio Blush (Candid Coral) & Heidi Yi Mineral Blush (Matte Apricot)
3.) MAC Amplified Lipstick (Impassioned)
4.) LA Colors Color Craze Nail Varnish (.....Diamonds)
Sorry, I forgot the full name of it
5.) Lumene Vitamin C+ Radiant Beauty Drops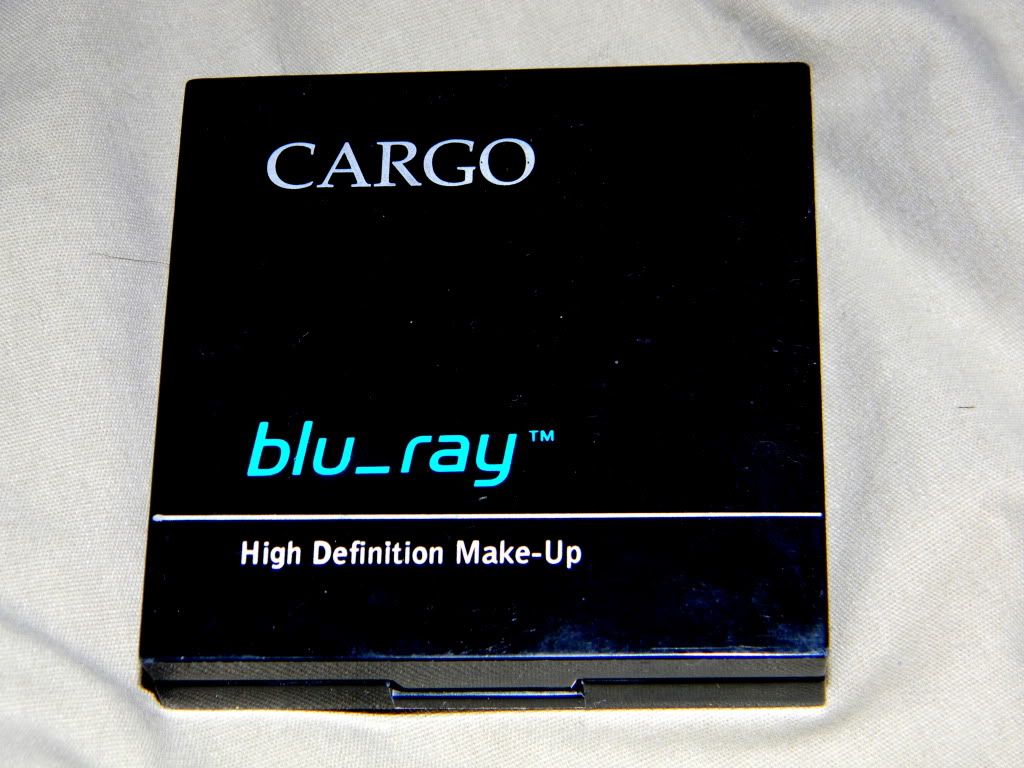 CARGO BLU RAY HD POWDER (Shade 20)
I absolutely love this powder! It has become my HG when it comes to setting powders. I love this powder more than my Estee' Laudere, MAC or Etude House, mainly because it gives you a silky smooth canvas, it doesn't cake at & it sets your makeup really well <3 I will definitely repurchase this again. Although, I must say, this little thing right here might cause you some pain in your wallet, as it is about $30. So yeah, price wise can be a bit of a downer, but overall, this product is one heck of a great investment!
WHERE TO FIND THIS PRODUCT:
ULTA, Sephora &
Cargo Website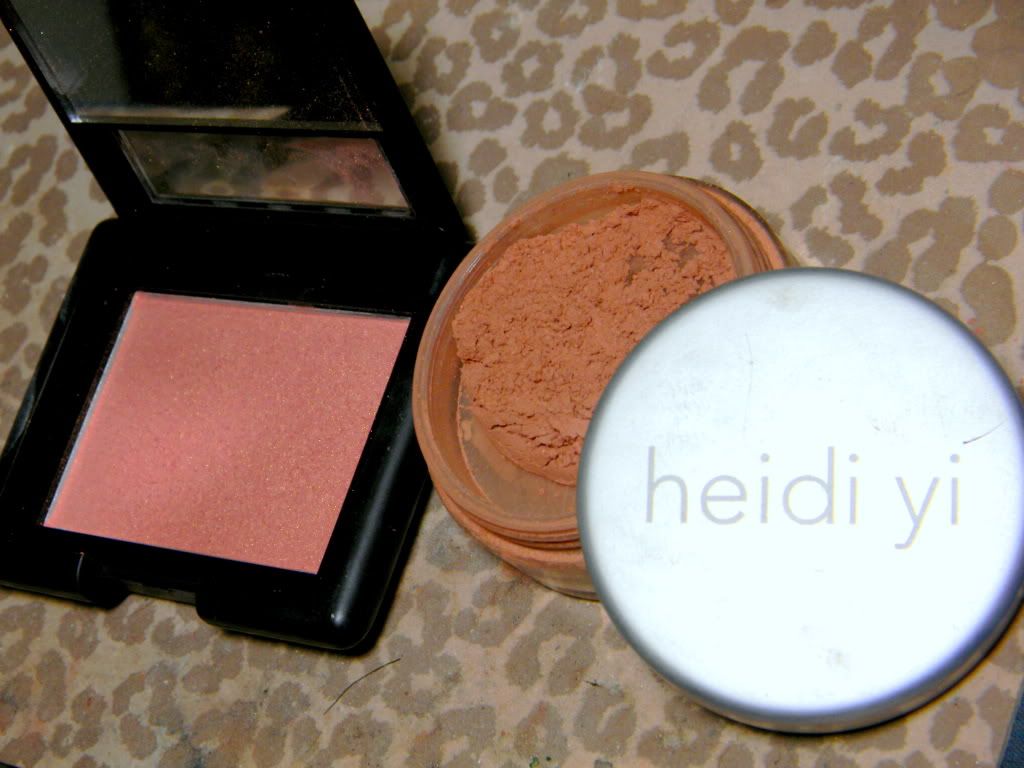 ELF BLUSH (CANDID CORAL) & HEIDI YI MINERAL BLUSH ( MATTE APRICOT)
Omg, what can I say? this blush combo is probably the best I've ever come across. ELF's candid coral is an amazing pink-coral blush with flecks of gold. However, it may come a bit too sheer & a little too glittery for my taste if worn by itself. As for Heidi Yi's Mineral Blush in Matte Apricot, well, this blush has made my monthly favorites over several times. It has also been one of my favorite blushes for a few months now. However, since it's a matte finish, it does make your face a little blotchy as the day goes on. Anyways, I discovered that by combining a little bit of both, it gives a perfectly healthy sun-kissed glow to your face without blotchy-ness or too much glitter!
WHERE TO FIND THESE PRODUCTS:
ELF BLUSH- Target or
ELF's Website
Heidi Yi Blush-
Heidi Yi's Website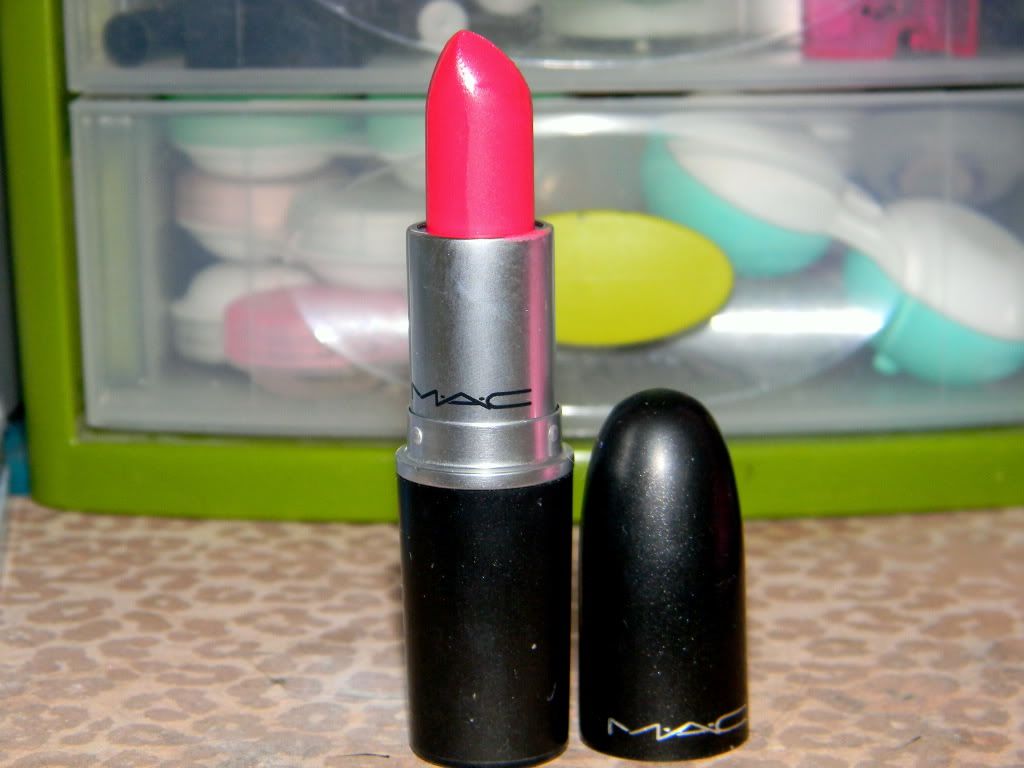 MAC AMPLIFIED LIPSTICK (IMPASSIONED)
This lipstick is a definite must have for this Spring/Summer season. It is a perfect blend of pinks, reds, & corals. I also love the fact that its an amp finish because it is very vibrant and doesn't dry out my lips like most MAC lipstick finishes do. I am also loving the pigmentation that this lipstick gives, it's not sheer by any means but you can definitely control how much you want to put on.
WHERE TO FIND THIS PRODUCT:
MAC Counters &
MAC Website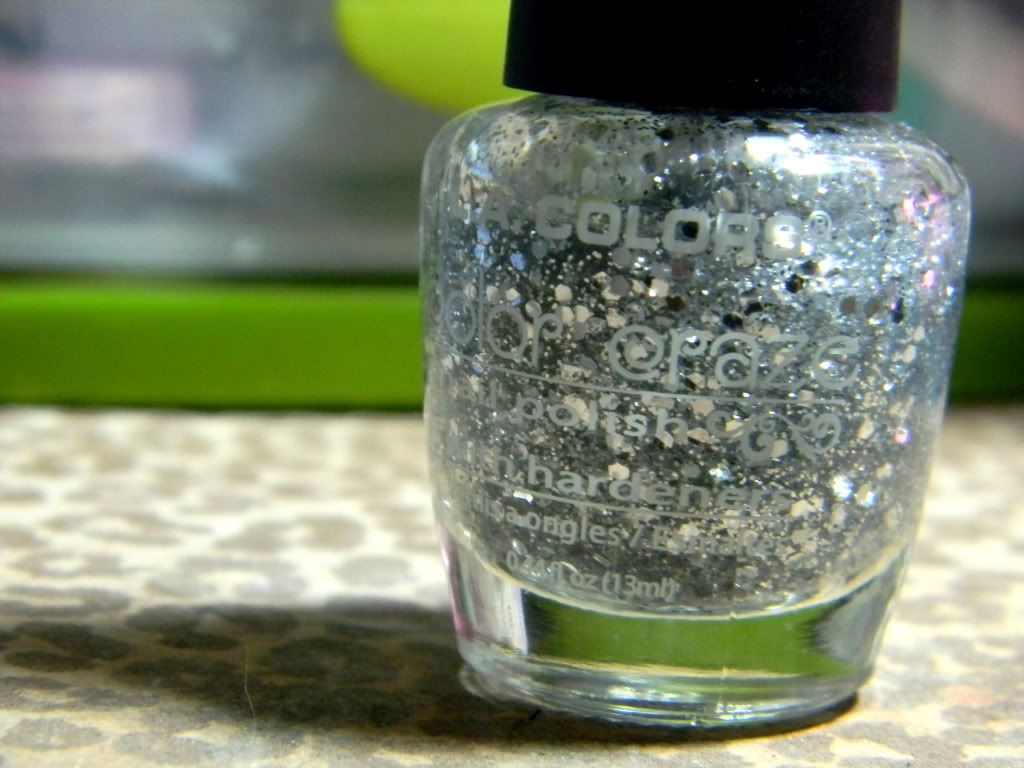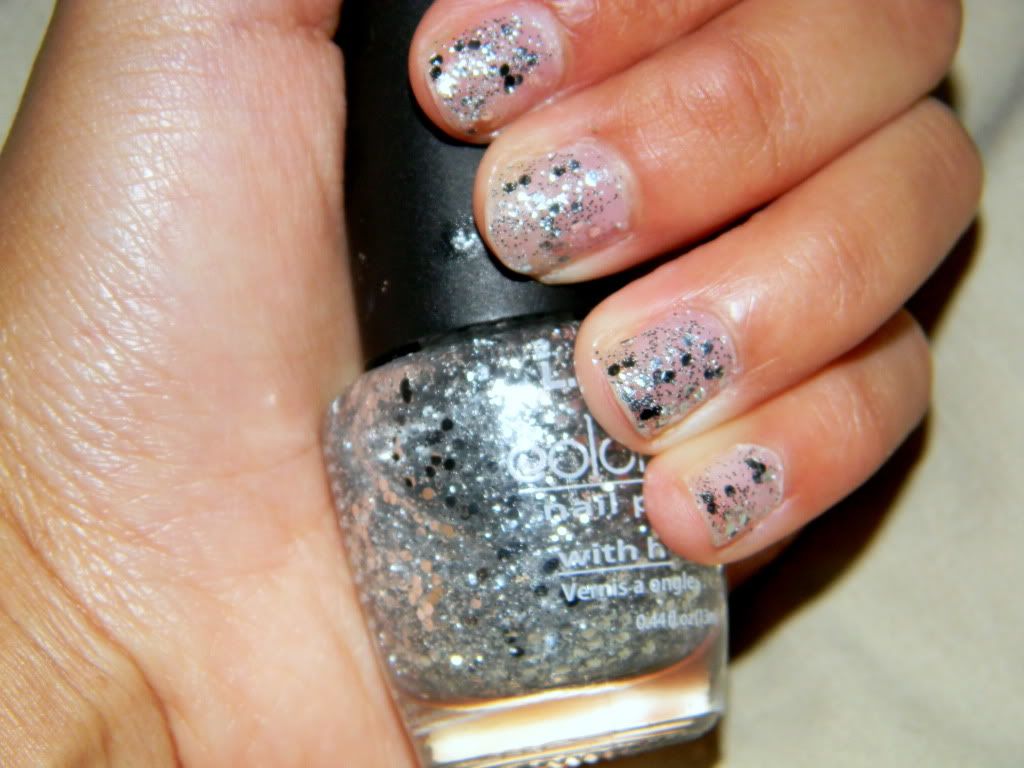 LA COLORS NAIL VARNISH
I got this nail polish from the $1 store & wasn't expecting much from it since it was cheap. But low & behold, this nail polish is one awesome nail polish. I love love love it! I like how it's a clear polish with huge chunk of glitters. It kind of reminds me of the OPI polishes they have at Sephora that looks very similar but costs like $8-9? I think this is also available in gold, so I'm definitely going to head back to my $1 store & grab the gold one as well. I mean seriously, this is such a huge steal, don't you think?
WHERE TO FIND THIS PRODUCT:
$1 Store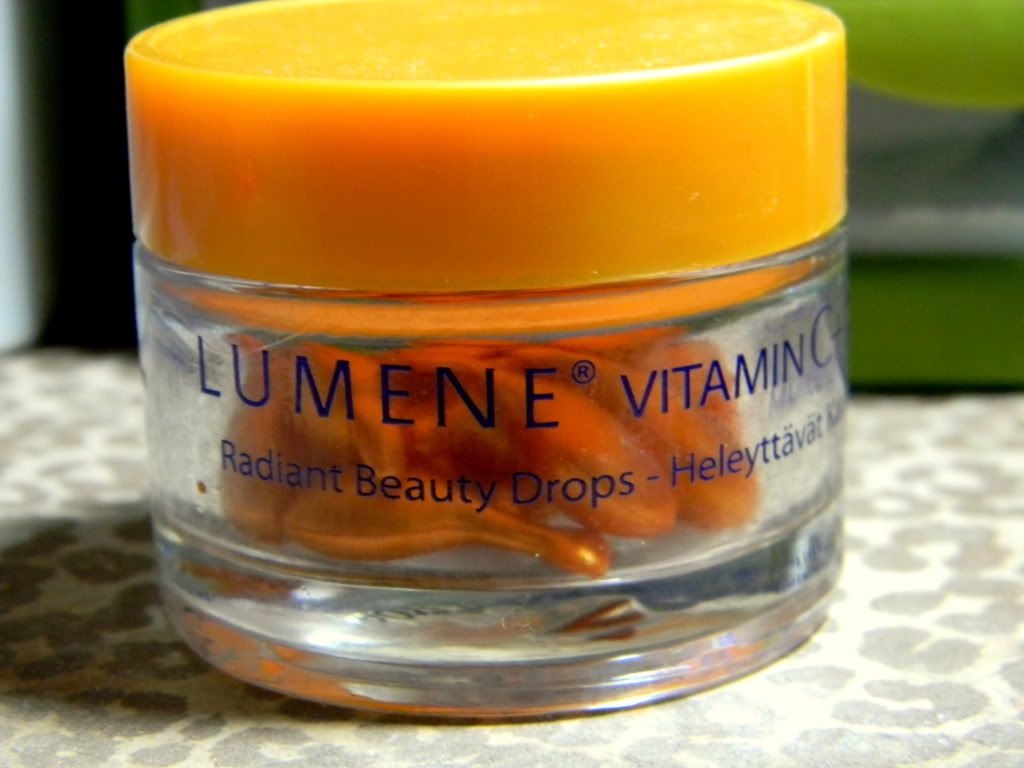 LUMENE RADIANT BEAUTY DROPS
To be honest, this is my first time ever trying these "beauty drops" or any other kind of beauty drops for that matter. But I must say, as weird as it looks, it made my face feel extremely soft. Although, I'm not too sure if it has made my face any more radiant, since you're supposed to use it for exactly 28 days, which you can tell I haven't done so, since I still have a lot left. But nonetheless, I love how it has made my face soft like a baby's bottom <3 I also picked out a bunch from their new VITAMIN C+ line & have been using it religiously with my current skincare routine. (I'll be sure to do a full review of the other Lumene products that I got, in about a few more weeks or so)
WHERE TO FIND THIS PRODUCT:
ULTA, Walmart &
Lumene's Website
So, how about you guys, what are some of your favorite products for this month of May?